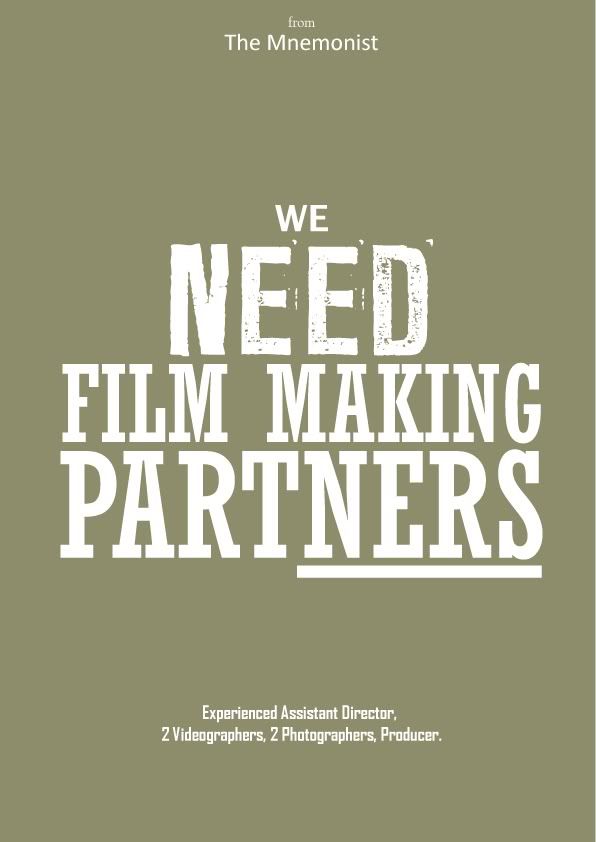 常常看着照片和它的内容,是否有点闷了?
这次我来做点特别的。其实也没什么特别的啦~~哈哈哈
就把我想告诉大家的故事放进一部短片,让所有人欣赏~
暂时不透露任何内容和主题。
但是我和同伴是不可能只有两人制作短片的,多个帮手事情才会做得完美。
当然,机会来啦!!! 我们正需要像你一样对影片制作有兴趣的才子来加入我们。
和我们一起制作,学习,无论你是否有经验。
-有经验的同鞋,你也一样可以加入我们,成为我们的导演助手或其它岗位。
-如果你也想多一份 Portfolio , 这也是个机会~
-这是我的第一次制作,你也一样可以和我一起学习~
别放走这个好机会,想知道更多快留言或 e-mail 至
[ ny_meng@hotmail.com]
Feels nothing special that always looking the stories and photos?
This time I will do something I never done before.
I will put a story that I want to tell everyone into a short video, and let everyone enjoy it~
But the contents will not disclose by now.
Of course, the opportunities has come!!!
We need partners like you who interested to make film to join us.
Produce the works with us and learn together whether you have experience.
For the experienced senior, you too can join us as our assistant director or other positions.
If you would like to have more portfolio, this is a great chance too~~
Don't miss this great opportunity!!!
For more information please e-mail to
ny_meng@hotmail.com